Daily Podcasting Blog and news related to podcasting, RSS, podcast news and aggregation. Information related to podcasts are added on a daily business and cover the gamut, from new podcast product announcements, podcast directories, marketing for podcasters and much, much more.

03/29/2013 Validate or I Will Smash You Cartoon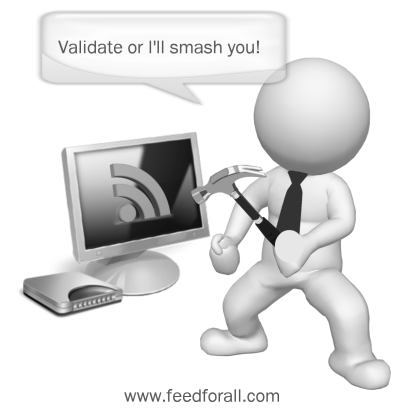 Validate or I Will Smash You!

03/28/2013 Should You Add Podcasting to Your Strategy?
Every day, there seems to be a new addition on the podcast scene. Even though some might say that the podcast market is overstuffed, major podcast networks continue to see their audiences grow. Of course, since most podcasts are free, sponsorship has become a huge part of keeping them running — this has, in turn, presented brands with a major marketing opportunity to a desirable audience. Who is this audience, exactly? Here are some essential stats:

complete article

03/27/2013 Podcast Content Marketing Strategy
Providing content to your audience is very important for a variety of reasons in your marketing strategy. It keeps your business top-of-mind to prospective customers and shows you are an authority in your field. But, as different people consume content in different ways, it is important to get your message and brand out across multiple channels. Blogging, whitepapers and webinars are great tools for your content strategy. So is podcasting as it can add variety to a mostly text-based strategy!

Podcasts are an easy way to generate guest content from other thought leaders and influencers.

complete article

03/26/2013 Great Podcasting Questions for Customers!
1. If you are subscribed to the podcast or you have listened to some of the episodes, which kinds of episodes do you like best?
2. What topics would you like me covered in the future?
3. How do you listen to podcasts . . . iTunes, RSS feed, or straight on the computer?
4. How often would you like to see new podcasts?
5. Do you ever listen to archived podcasts?

03/25/2013 Funny Cartoon for College Counseling
Funny Cartoon for College Counseling: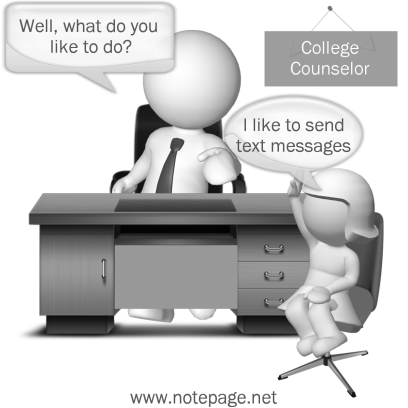 03/22/2013 Design Tools
Creating an interesting and colorful color palette can be a chore, even for the most experienced designers. We have compiled a list of color design tools that can be very useful for web artisans...

Design Tools

03/20/2013 Should You Podcast?
Here are some essential stats:

One in four podcast consumers plug their MP3 players or smartphones into their car audio system nearly every day
Podcast listeners/viewers skew slightly male 54% to 46%
Half of podcast listeners are aged 12-34
Podcast listeners spend more time on the Internet than the average consumer

complete article

03/19/2013 An Easy Way to Engage Customers
Are you looking for a simple way to create more customer engagement, but you do not have the skill set or time to blog? Consider podcasting instead. Creating podcasts is great for business owners who get stressed out by the idea of writing, but enjoy talking .

complete article

03/15/2013 10 Tips for Improved Time Management
Managing time is a major struggle for many of us. Lack of productivity and procrastination are usually the result of poor time management. Make the most of your time by taking advantage of these helpful tips...

1. Make Lists

Lists help keep you focused and on task. Create a list of tasks in advance for the upcoming day. When you find yourself distracted or unsure of what to do next, refer to the list, which will help put yourself back on track. When you complete a task, cross that item off the list -- this will give you a sense of accomplishment, and will also help motivate you to tackle the next item on the list.

10 Tips for Improved Time Management

03/12/2013 Podcasting Student Progress Reports
In lieu of a weekly evaluation or progress note for every student, what if you were to record CD-quality audio files to your phone and email them directly to parents?

Podcasting Student Progress Reports

03/11/2013 4 Things Needed for Video Podcats
When you break it down, there are only four things you really need to begin:

An Idea
The Desire
A Budget
Discipline

Lets take a close look at these four necessities to help you on the road to video podcasting.

complete article

03/07/2013 Brilliant Tech Savvy Kids Cartoon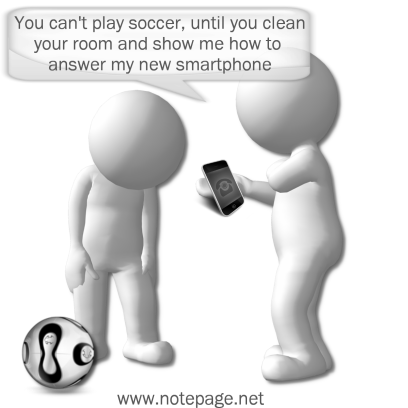 03/06/2013 Podcasting as a Marketing Tool
Like blogging, tweeting and other forms of content marketing, podcasting is about positioning yourself as an expert in the field while bringing in the ideas that others are using and sharing.

complete article

03/05/2013 PodcastOne a New Podcast Network
PodcastOne.com provides a customizable environment where users can access their favorite podcasts for free while discovering new favorites based on their activity. One of the biggest podcasting ventures to date, PodcastOne.com is already home to more than 200 major podcasts including those from some of the biggest names in news and entertainment


03/04/2013 Shield Act to Help with Patent Trolls
The goal of the Shield Act is to: To protect American innovators and companies from frivolous patent lawsuits that cost jobs and resources. The SHIELD Act will put the financial burden on so-called "patent trolls" that buy broad parents on products they did not create and then file questionable lawsuits against companies for infringement.

complete article

03/01/2013 Tips from Podcasting Experts
The benefits of podcasting are plentiful:

Creating a podcast is simple and inexpensive
You have a captive audience, because people often listen to podcasts while they are doing something that keeps them from reading or watching videos, like driving in their car or running on a treadmill.
You are quite literally inside your audience's head, and they feel like they know you.
People subscribe to your podcast, so it's delivered to them automatically, not unlike an email newsletter.

complete article

02/28/2013 Tips for Podcasting with a Cohost
Having a regular cohost in your podcast can make your podcast more conversational, personal, and more thorough with alternative perspectives. These tips will help you to podcast with others.

complete article

02/27/2013 Free Tools to Monitor Your Brand
There are a number of things that you can do to monitor your online brand, as well as monitoring the brand of a competitor. Being aware of what is said, and when it is being said, will allow you to react in a timely fashion. It is often a company's reaction to negative media that leaves the biggest impression. In order to turn a negative into a positive, you must first be aware that a conversation is taking place. Fortunately, there are a number of free tools that can assist companies with brand monitoring...

complete article

02/26/2013 Podcasting for Internal Communications
How to use a podcast internally

It might be easier to grasp the idea of a podcast for external marketing. However, organizations do produce podcasts to reach internal audiences, to complement the employee newsletter, intranet and other communications. At one organization in the U.S., the communications manager told me that after he started up a podcast, many employees made listening to the weekly show part of their Monday morning routine. The producers covered such topics as new business, the employee assistance program, the occasional message from the CEO, and human-interest stories.

complete article