Daily Podcasting Blog and news related to podcasting, RSS, podcast news and aggregation. Information related to podcasts are added on a daily business and cover the gamut, from new podcast product announcements, podcast directories, marketing for podcasters and much, much more.

01/30/2007 Podcasting Bundle - Audio Recording and Feed Creation
New Podcasting Software Bundle.
FeedForAll has released a new application that handles audio recording and editing. The new application is very easy to use and has a built in tutorial that demonstrates the basics. If you are interested in trying podcasting this combination is an inexpensive and powerful combination!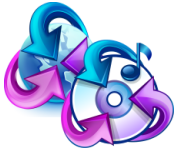 Users can try free evaluation versions of both FeedForAll and RecordForAll . Users who opt to purchase the podcasting software bundle will save $ 10.00 on there order.

01/29/2007 PDFcasting
iTunes is the master of its domain when it comes to digital music distribution and Apple is even breaking into online distribution of podcasts, music videos, TV show and movies. But there's a virtually untapped new market on the horizon for Apple's venerable music distribution platform: magazines and books.

Apple has the potential to shake up the printed magazine and book market just like they did with music and now television and movies. It's good news for trees but bad news for some ivory tower-type fat cat print executives.

complete article

01/24/2007 Apple Sued for Click Wheel Technology
In a case filed in late 2005 but only coming to light now, Quantum Research Group is claiming the iPod maker infringed on their capacitive sensing technology in building the iPod's clickwheel, which is used to navigate the digital music player's interface. Apple filed counterclaims for non-infringement and invalidity.

01/24/2007 Europe Wants Apple to Open Format
Apple is being challenged once again to open up its DRM by consumer groups in Europe. This time, Germany and France have joined the slowly-growing number of countries who are asking Apple to allow the protected songs purchased from the iTunes Store to be played on other music players besides the iPod.

01/23/2007 Educational Podcasts
There is a new portal for educational podcasts and rss feeds. Colleges and Universities are encouraged to submit their course podcasts or feeds free of charge. The educational feeds directory aims to be a portal for both educators seeking course material and students looking to supplement their classes.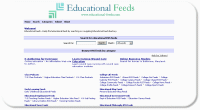 01/22/2007 New Software to Create Podcasts
The new release of FeedForAll includes unified publishing and namespace support (including iTunes). This means that you can FTP enclosure files along with your RSS feed. This also means you can easily create iTunes compatible podcasts! The new enhancements will greatly benefit podcasters!

There is a free download trial and lots of new features.

New Software to Create Podcasts

01/20/2007 Big Profits Planned on iPhone
According to a preliminary bill-of-materials estimate by iSuppli, the $599 Apple iPhone could net Apple over a 50 percent gross margin, the analyst firm said Thursday.


01/19/2007 Language 123 Translating Podcasts
Language123, The Translation Marketplace, is offering a new service to podcasters to translate their programs into dozens of languages, giving them the opportunity to connect to hundreds of translators from all over the planet and choosing the best option according to their budget and individual requirements. Podcasters looking for translation or interpretation services can go to the site, enter the requirements and details of their project, and receive information about the most suitable options available according to their needs. It is even possible to upload your podcast script along with the project description, giving translators additional information to provide a more accurate quote.

01/16/2007 TIME Magazine Ranks Podcasts
TIME Magazine ranks the top 10 podcasts for 2006.

01/16/2007 Best Podcast Search Engines
Robin Good has posted a summary of the best podcasting search engines!

01/15/2007 Cisco Suing Apple Over iPhone
Cisco Systems is suing Apple for trademark infringement in a US federal court, for using the iPhone name.
Apple launched its new handheld mobile phone device under the iPhone name on Tuesday, at the hotly anticipated Macworld event in San Francisco.

Following the launch Cisco said it hoped to resolve the matter by Tuesday evening after negotiations.
Apple responded by saying the lawsuit was "silly" and that Cisco's trademark registration was "tenuous at best".

complete article

01/15/2007 Sundance on iTunes
The Sundance Film Festival has struck a deal with Apple to allow festival films to be sold through its iTunes store.
Thirty-three short films being screened at the festival in Utah will be made available for download for $1.99

01/09/2007 Podcasting Academy V
On February 13-15, 2006, Information Science + Information Studies at Duke University will partner GigaVox in presenting Podcast Academy V on the Duke campus in Durham, NC. The conference will highlight academic applications of podcasting, targeting both beginners and experts in the field. We'll focus on both pedagogical and technical considerations, and provide hands-on training as well as best-practice and student showcases.

01/09/2007 Ugly Betty on iTunes
The Golden Globe-nominated series Ugly Betty has joined the offerings available through the Apple iTunes Music Store.

01/08/2007 Stanford on iTunes
Download faculty lectures, interviews, music and sports. Experience Stanford on iTunes U and continue learning with Stanford.

Stanford on iTunes

01/04/2007 Apple Facing Suit Due to Proprietary Nature of Technology
The suit was filed by a user, Melanie Tucker, and seeks class-action status. It alleges that Apple violates antitrust laws by refusing to allow music bought in its iTunes store to be played on any digital music player besides the iPod. It also charges Apple with not making it clear to customers that music from the iTunes store and the iPod are incompatible with music and devices offered by other companies.

The suit asks that Apple be forbidden to continue to support the exclusive tie-in between iTunes and the iPod and that Apple pay damages to anyone who has bought an iPod or music from the iTunes store after April 28, 2003.

complete article

01/04/2007 Music Industry Changes Tune
An article in the Wall Street Journal explains that the music industry is looking at licensing podsafe music:

Licensing music for podcasting has long been a source of internal debate at music labels. Many executives argue that it is worth handing over some content to spur consumer interest, while others maintain that the companies erode the value of their product by knowingly allowing it to be freely downloaded and copied.

Ted Cohen, a digital-media strategist who for many years was an executive at EMI Group PLC, says that keeping up-and-coming artists "protected" from use in podcasts has often backfired. "We've protected them so well nobody knows they exist," he quips.

complete article

01/03/2007 PodcastingTricks Posts Podcating Trends for 2006

2006 is winding down. Here is a list of important trends that came about this past year.

1) Venture Capitalists show love for podcasting - several venture capital firms along with untold angel investors, spent millions bankrolling podcasting-related startups.

2) Podcasting conventions, seminars and expos were big hits - the Podcast & Portable Media Expo was a hit - period. And several other podcasting shows including the Podcast Academy and the Podcamps were well attended. NAB even had a podcasting track.

3) Podcasters are starting to cross over into mainstream media with some success - Amanda, Cali, Heather and more.

4) News media coverage of podcasting explodes - almost every major newspaper in the country as well as several prominent business magazines and even TV news covered podcasting in 2006.

more on Podcasting Trends

01/02/2007 2006 Reflections, 2007 Predictions
For the most part in 2006, the world escaped Natures wrath, but people were far less kind to their neighbors. 2006 is scarred not by the winds and oceans but by political turmoil across the globe. The Middle East quagmire is the epitome of how wrong things can go, with the war in Lebanon, infighting in Palestine, Iran's nuclear ambitions, and Iraq's sectarian violence the deepest scars of 2006 were self inflicted with man being his own enemy. Of course, the Middle East is not alone with it's own self-destruction. Genocide in Chad and Sudan show how truly intolerant the human race really is. North Korea's impatience and nuclear activity have disrupted Asia. In fact, few areas of the world were left unscathed by man's ambitions in 2006.

Again technology has brought the tragedies of war and the personal stories of families from the farthest corners of the earth, to the door steps of the west. Citizen journalism and Internet propagation has added a complex layer to the stories. The growth of YouTube, Blogs, Podcasting and RSS have personalized the media and given listeners and watchers a personal connection to the reports.

Technology has not only revolutionized news and how it is viewed, interactive technology is shaping the news.

2006 Reflections, 2007 Predictions

01/01/2007 YouTube Appears to Have Broken Promise to Warner Music Group
YouTube vowed to have a piracy-prevention system in place by year's end as a caveat of the "first-of-its-kind" alliance to sell Warner music and share the revenues.

The system was not in place Saturday and YouTube's offices were closed until after New Year's Day.

complete article

12/29/2006 iTunes Overload
Users of iTunes have been reporting errors and problems attempting to download songs. The Apple site has been unable to handle the influx of users who are attempting to enjoy their holiday toys.