A Podcasting Blog from Podcasting Tools - Daily Podcasting News and Information for Podcasters and Listeners.
Daily Podcasting Blog and news related to podcasting, RSS, podcast news and aggregation. Information related to podcasts are added on a daily business and cover the gamut, from new podcast product announcements, podcast directories, marketing for podcasters and much, much more.

12/27/2007 Apple and Fox to Offer Movie Rentals
Apple Inc and News Corps Twentieth Century Fox are set to announce a deal that will allow consumers to rent movies through Apples digital iTunes Store, media reports said on Thursday. The agreement will allow rentals of Foxs latest DVD releases by downloading a copy from the online iTunes store for a limited time, the Financial Times said, quoting a source. The Wall Street Journal also reported the deal in its online edition.

12/18/2007 XM Exploring Podcasting
XM Satellite Radio is now offering Bob Edwards Weekend, XM Artist Confidential: Green Room, highlights from the Unmasked comedy series, and other programs in free podcast form through the XM website and the iTunes Music Store. The podcast offerings also include a new animated video series from Opie & Anthony.


12/17/2007 iCrap Guide
This iCrap Guide is a comprehensive guide to all the unusual and abundant iPod accessories you can buy (or that someone can purchase for you!). The guide includes socks, dog clothes and much more.

12/12/2007 Create Professional Podcast Feeds
More and more companies are using podcasts as a means to communicate, so having an podcast feed that is professional and well polished will help differentiate your company from your competition. What makes an podcast feed professional? Follow these simple steps to polish your podcast feed and take it to the next level...

Create Professional Podcast Feeds

12/11/2007 Amazing Podcast Pricing
The NY Times reported:

At least two companies now sell software to universities and other institutions that captures the words of classroom lectures and syncs them with the digital images used during the talk — usually PowerPoint slides and animations. The illustrated lectures are stored on a server so that students can retrieve them and replay the content on the bus ride home, clicking along to the exact section they need to review.

The concept is not new, the amazing part is that these companies charge annual fees north of $25,000 to more than $100,000! These Universities could do it for far less!

12/10/2007 Ski Conditions Podcast
Lake Tahoe Snow Report Offers Ski Conditions Podcast. Skiers and snowboarders looking for regular and convenient updates on conditions, events, and operations at Lake Tahoe's ski resorts have an easy and high-tech option this winter. The Lake Tahoe Snow Report offers a daily audio and weekly video podcast, plus a daily radio and web report covering conditions and operations at resorts around Lake Tahoe.


12/05/2007 Wine Podcast
The Australian wine industry has taken the hi-tech route in its communications strategy by taking the podcast path in order to educate people about its wines. And it seems to have worked.

The first podcasts describing Australia's wine regions have been downloaded more than 10,000 times since being launched in April this year.

Australian Wine Podcast

12/04/2007 Tune in for Training
Training via podcast appears to be effective because employees can listen to the lessons as often as needed without tiring their trainer. Workers with headphones and MP3 players can move around the business and see the work they will be doing or the merchandise they will be selling while they learn about it. This hands-on experience caters to most learning styles, helping new employees gain confidence in their ability to do the required work. Businesses are quickly adopting podcasting and webcasting as training mediums because the cost of podcast and webcast production and replay equipment are much lower than DVD and CD costs.

Tune in Training

11/27/2007 Podcasting Bundle Discount
There is a Cyber Special on the Podcasting Bundle from now until December 1st! Enter the coupon code cybermonday and get $5.00 off the podcasting bundle. You will get FeedForAll software for creating rss feeds and podcasts (including those that are iTunes compatible) and RecordForAll audio recording and editing software. You will also be granted access to the RSS Scripts Directory. The total discount for the bundle is $ 15.00 off!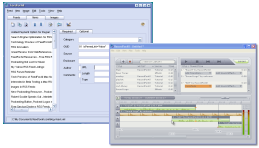 11/26/2007 Internet Safety Podcast
New Internet Safety Podcast. discusses family safety meeting cyberspace.

11/26/2007 Podcasting Tips
Recently a client asked me for some Podcasting Tips. I was surprised at how little information is out there on Podcasting compared to other forms of internet marketing. This is surprising given that advertisers are expected to spend will spend more than $400 million on podcasting by 2011 from $80 million in 2006 (eMarketer). Our podcasting clients have found that their Podcasting Series has helped to position them as a leader in their industry.

In any case, being the good Account Manager that I am, I spoke to a few of our marketing and technical specialists, and pulled together this top 10 list of Podcasting Best Practices:


current blog

2007
december archive
november archive
october archive
september archive
august archive
july archive
june archive
may archive
april archive
march archive
february archive
january archive

2006
december archive
november archive
october archive
september archive
august archive
july archive
june archive
may archive
april archive
march archive
february archive
january archive

2005
december archive
november archive
october archive
september archive
august archive
july archive
june archive
may archive
april archive