Daily Podcasting Blog and news related to podcasting, RSS, podcast news and aggregation. Information related to podcasts are added on a daily business and cover the gamut, from new podcast product announcements, podcast directories, marketing for podcasters and much, much more.

09/28/2005 Could Podcasting really replace traditional radio?
Podcasters have already inspired conventional radio stations to evolve.

But their podcasts will increasingly be on the radar of traditional radio broadcasters as fertile grounds to feed the desire for new talent, and ideas.

Complete Article


09/26/2005 60 Minutes is Podcasting
Some of the oldest reporters in the news business are embracing one of the hippest forms of new media. CBSNews.com will begin offering free podcasts of a single 60 Minutes segment each week starting Monday, Sept. 26.

The first free podcast will be Lesley Stahl's interview with former American hostage Roy Hallums, who recounted for the program his 10 months as a captive in Iraq.

CBSNews.com's podcasts, which include content from Face the Nation and The Early Show, are currently not ad-supported.

No word on whether 60 Minutes correspondent Andy Rooney will do a segment on why he hates podcasts.


09/16/2005 NYPD is Podcasting
New York's finest are podcasting! Stay up to date on news related to New York's police department. Get Podcast


09/16/2005 AOL To Add Podcast Search
America Online Inc. on Wednesday said it plans to add this fall podcast search to its general search engine.

The Dulles, Va., company said it plans to integrate TVEyes Inc.'s Podscope search technology to AOL Search.



09/14/2005 FeedForAll's New Beta Supports iTunes for Podcasting
FeedForAll announced the release of a new beta version
This beta release consists of some major work behind the scenes, making FeedForAll Unicode, UTF-8, and RSS Namespace compatible. What this means in non-geek speak, is that FeedForAll 2.0 can be used to maintain RSS feeds in any language. It also now supports all Rss 2.0 namesspace extensions, like iTunes.

Optional and advanced tabs make defining iTunes fields very easy.

Check out FeedForAll's New Beta

A side note the current released version of FeedForAll Mac includes iTunes support.


09/13/2005 Condoleezzaa Rice is Podcasting
Podcasts are a convenient way to download the State Department press briefings and available audio releases from Secretary of State Condoleezza Rice and other senior Department officials and listen to them on your media player.

More Information - Condie Podcasts


09/13/2005 Podcasting Professors - Pick-A-Prof site offers students audio recordings of lectures for fee
Ubiquitous iPods may soon find a more academic use, as teachers prepare to put downloadable lectures on the Internet for $5 per lecture.

Pick-A-Prof, an online service that allows students to anonymously review their teachers, has linked up with three advertising professors at the University to record and offer downloadable audio files titled "Coursecasts."

So far, the program is being tested only here and at Texas A?



09/13/2005 Podcasting Directory Comparison
Just realized a previous post contained the wrong url for the podcasting directory comparison.


The podcasting directory comparison includes the alexa ranking, page rank and indicates whether the directory contains a search functionality or is categorized.


09/12/2005 RSS Directory Comparison
Check out the top RSS Feed Directories in this comparison chart.

The chart shows the websites Alexa Ranking, Google Page Rank, whether the feeds are separated into categories and if the site allows keyword searches. The top sites were:

1. 2RSS
2. RSS Network
3. Every Feed
4. RSS Locator


09/08/2005 Podcast Alley Has New Owners
Silicon Beat reports that PodShow, a podcasting network founded by Ron Bloom and Adam Curry, has bought Podcast Alley, a top podcast directory and podcaster community.



09/08/2005 Miles and Miles of iPods
Apple has announced that it has teamed up with Acura, Audi, Honda and Volkswagen to deliver iPod integration with their car stereos for 2006 model lines.



09/08/2005 Apple Captures Harry Potter Deal
Apple has announced that the entire Harry Potter audiobook series is now available exclusively on the iTunes Music Store, the world's number one online music service. Every audiobook in the series, including the latest release, "Harry Potter and the Half-Blood Prince," is available as a digital download from iTunes.



09/07/2005 Purdue is Podcasting
This year at Purdue University, the popular iPods and other MP3 players not only will play the latest tunes. Students also will be using the devices to replay class lectures.

"Many universities are experimenting with podcasting, but I'm not aware of any other university that is deploying a podcasting service on the scale that we are," Michael Gay manager of Broadcast Networks ?
Podcast lectures have several advantages. Among them:

- Students are able to repeat lectures at their convenience, whether that's while exercising, driving or walking on campus.
- Non-native English speaking students can replay lectures to increase their comprehension.
- Students can review lectures before exams.
- Instructors can listen to their own lectures to improve their presentations.
- And, of course, students can listen in on classes they've missed.


09/08/2005 iTune Phone Finally Revealed!
Apple on Wednesday unveiled a cellphone that works like an iPod music player, in a bid to extend its domination of the digital music market.

The color screen, silver device, which was developed with Motorola Inc., can store 100 songs and has stereo speakers, stereo headphones and a camera.

Cingular Wireless, a venture of SBC Communications Inc. and BellSouth Corp., will be the exclusive U.S. carrier of the phone.

09/06/2005 Soap Opera, Guiding Light, Turns To Podcasting
Fans who miss the latest trials and tribulations of characters on the 70-year-old sudser can download episodes and listen to them on their iPods or other portable media players.

Complete Article


09/06/2005 Investors get Behind Podcasting, but will the Listeners? - Globe Editorial
It was a milestone of some sort last month, when venture capitalists made the first two serious investments in podcasting start-ups. But did the milestone signify that podcasting is on the verge of dethroning radio -- or that the buzziest technology trend of 2005 had just jumped the shark?

A few days later, Odeo cofounder Evan Williams announced on his blog that his company had raised money from Charles River Ventures of Waltham. Before starting Odeo in December, Williams had helped build Blogger, an early blog-creation and hosting site Google eventually acquired.

Odeo didn't say how much it had raised, but the Charles River partner who made the investment, George Zachary, told me it is ''in the same order of magnitude as the PodShow amount."

Complete Article




09/06/2005 Sony in talks with Apple on online music service for iPod
Sony said it was in talks with Apple Computer about a possible launch of an online music download service for Japanese users of Apple's hot-selling iPod digital music player.


09/01/2005 Podcasting Directory Comparison
Check out the top Podcasting Directories in this comparison chart.

The chart shows the websites Alexa Ranking, Google Page Rank, whether the feeds are separated into categories and if the site allows keyword searches. The top sites were:
1. Podcast.net
2. Podcasting Station


08/31/2005 Apple plans surprise: vPod? iTunes phone?
Apple Computer plans a major announcement next week in San Francisco, sparking speculation that the company that revolutionized digital music will unveil a video-playing iPod or an iTunes mobile phone.

The Cupertino company e-mailed an invitation to reporters Monday, alerting them to a ``special event'' Sept. 7 at Moscone Center. The invitation featured a close-up image of the watch pocket on a pair of jeans, and text that hinted at something big -- or more precisely, something compact.

08/30/2005 Podcasting Tutorial - Step By Step How to on Podcasting
Step by Step ... How to Podcast Using FeedForAll
Podcasting is simply an RSS feed that contains an MP3 or audio file in the enclosure tag.

The following is a step by step tutorial that explains how to setup your podcast.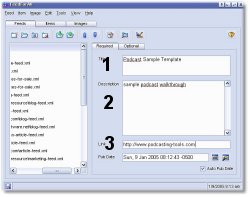 Start a new RSS feed

1. Enter a title for the new feed/podcast

2. Enter a collective description of all the audio files contained in the podcast.

3. Enter the URL of the website or webpage you want associated with the podcast.

Read the 12 step Podcasting Tutorial